Ho Ho Ho
It's beginning to look a lot like Christmas on our shelves here at Beauty Vibes with amazing value for money gift ideas from Dermalogica.  The below items are currently available to purchase from in store and are only available for purchase while stocks last!!
"Live your best life in your healthiest skin"
This 'Ultimate Cleanse and Glow Trio' Gift Set
Packaged in a Dermalogica branded box with tissue paper, ribbon and gift tag.  It includes 3 full sizes;
150ml PreCleanse + 250ml Special Cleansing Gel + 74g Daily Microfoliant
*Suitable for all skin types this is the ultimate gift set for 'Hero product skincare Cleansers' to achieve healthy and glowing skin and is also the ultimate in Savings to be had if considering professional skincare as purchased individually these items would add up to a total cost of £129 however this generous boxed Christmas gift set retails for just £85!!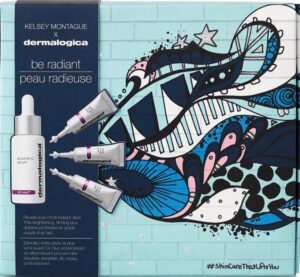 'Be Radiant' Gift Set – "For Skincare that lifts you!!"
Suitable for all skin types but in particular dry, dehydrated or skin prone to redness and dilated capillaries.
Contains the very popular Biolumin C serum 30ml (retail value £81.50) and 3x Rapid Reveal Peel (worth £25)
Biolumin Vitamin C serum has a very radiant effect on skin and also reduces signs of pigmentation, fine lines and wrinkles and strengthens skin defence against environmental skin stress triggers such as UV, pollutions etc.  Rapid Reveal Peel is a clinically graded at-home skin peel to resurface and speed up the skin renewal process.  *This truly is the ultimate gift set for anyone concerned with 'antiageing' and at amazing value at just £78!!
Daily Microfoliant – Everyone's favourite and at just £13.50 this travel size festive package makes for the perfect stocking filler or a secret Santa gift idea
*Many other, non-christmas packaged skincare products are available to purchase from in-store.
And
Until 16 Nov 2019 get 20% OFF selected 'Facial Skincare Products' and 60 minute 'Facial Treatments'. For more details on this very Special Offer click the link here