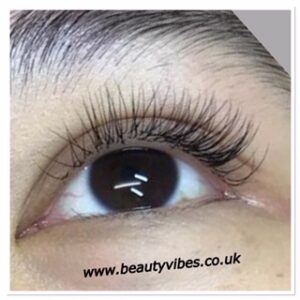 General Aftercare at home
For each eyelash extension treatment there will be many individual lashes applied.  *We apply approximately 100 extensions to each eye
It is normal to experience the loss of a few lashes during the first 24 hours while the adhesive is setting and extra care should be taken during this period.
The longevity of your lashes will depend on your adherence to following the recommended aftercare advice and keeping your lashes clean.
*For best retention please follow the advice below:
Avoid getting lashes wet for the first 24 hours
Avoid sauna and steam for the first 48 hours.
Do not pick, pull or rub your lashes as this will damage your natural lashes.
Do not use eyelash curlers when wearing eyelash extensions this will break the extension and damage the natural lashes.
Do not apply mascara, liquid/crayon/gel eyeliner as these are oil based products and will inevitably break down the adhesive causing the extensions to fall off and it also prevents you from cleansing properly, potentially leading to risk of eye infection.   * Recommend swapping eyeliners with eyeshadow powder and applying it with a damp shadow liner brush to achieve dark liner effect
Avoid using any oil based cosmetic products around the eye area.
When using your normal skin care products take care they do not contain oil.
Avoid using cotton wool to remove any eye make-up.
Lash Hygiene
It is so very important to keep lashes clean not only will they look better but they will last longer and most importantly keep eyes healthy.  By not cleaning your lashes you are leaving yourself prone to developing eye infections, as your lashes will collect residues of dust, pollution, make-up etc. and dirty lashes can cause bacteria which leads to infection so to avoid this your lashes need to be cleaned regularly.
If you suffer from hay fever or similar allergies, regular cleaning may alleviate symptoms. The skin around the eye area naturally secretes oil.  Oil is one of the biggest factors to cause premature loss of extensions. Constant neglect of your lashes will result in increased sensitivity and a higher chance of you developing a full allergy which would deem you unsuitable for eyelash extensions again.
* To maintain great eye health and best retention cleanse your lashes 2-3 times a week with a specifically formulated lash cleanser to effectively remove oil and debris
Cleaning Instructions
Using the recommended cleanser, (see below details for product info) dispense a small amount and work the solution through the lashes from root to tip with the lash cleansing cloth or lash cleansing brush using gentle circular downward movements and ensure you sweep under the water lines.
Rinse lashes thoroughly with cool or warm water.
Using a clean, dry towel gently pat the lashes with your eyes closed to remove excess water (DO NOT RUB LASHES)
Gently brush through the lashes with a clean mascara wand (provided), first downwards with eyes closed and then upwards with eyes open.
Either leave lashes to dry naturally or you can use a hairdryer on a cool setting only
Brushing at regular intervals throughout the day will also give longevity to your lashes.
Infills
Your lashes should look full for the first 10-14 days.
Just like nails, your natural lashes grow, so they will need a maintenance appointment every few weeks to keep them looking their best.  On average we naturally lose 2-5 natural lashes per eye, per day, so after 7 days you will lose 21 extensions, 14 days 42 extensions, 21 days 63 extensions.  As your natural lashes begin to drop naturally, the extensions will start to look less full. This is the time when you should book a maintenance session to replace the fallen lashes.
*You will require regular 2-3 week Infill appointments to keep your lashes looking their best.  This is a natural cycle and will enable you to wear individual eyelash extensions indefinitely.
Infill Appointment
At an Infill appointment, we replace the extensions that naturally shed with your natural lashes.
The amount of lashes that will need replacing may vary depending on your natural shed lash cycle, your at-home lash care maintenance and lifestyle. Eg. If you are a regular swimmer or sweat excessively either if hormone-related or via vigorous exercise gym sessions then lash retention will be compromised.
Dependant on individual lash shed the average time required for an infill appointment will vary from 1-1.5 hours.
To maximise on the time required to infill your lashes it is expected that you arrive to your lash appointment with lashes in the expected condition ready for lashing.  I.E. Clean with no residue of makeup, eyeliner or mascara.
*Lash extensions with mascara will mean a complete removal of lash extensions required and full set extensions re- applied.  This means added time and expense to your lash appointment and a possible reschedule for the re-application!
Removal
If you wish to have lashes removed please contact the salon to arrange for them to be removed professionally and safely for you.  The removal procedure is gentle and will not affect your own lashes.
*Please Do Not Attempt to remove them at home
Professional Lash Extension Aftercare Products (Retailed at Beauty Vibes)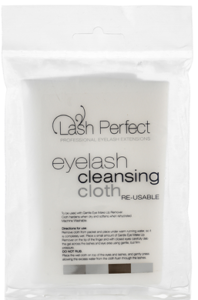 Lash Perfect Cleansing Cloth – £8
This is the perfect soft gentle cleansing cloth that should be used every time to cleanse your lashes.   A section of the cloth can be cut and re used.  As it's the eye area you only need cut small squares and then these cut squares can be washed after use under the tap using anti bac soap and then left to dry.  Coupled with the Gentle Eye Make-Up Remover, this cloth is the ultimate investment for great eyelash cleansing!

Lash Perfect Gentle Eye Make- up Remover – £13
The Gentle Eye Make-Up Remover is oil free and will not break down lash adhesive bonds.  Lashes should be cleansed with this solution using a damp lint free cloth.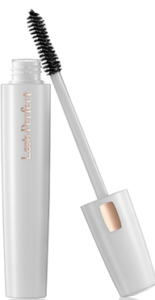 Lash Perfect Finishing Glaze – £19
This acts like a hairspray on the lashes and can be used daily to groom your lashes into place.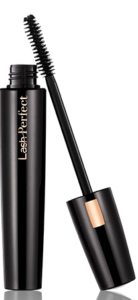 Lash Perfect Ultimate Black Mascara £13
This is an oil free mascara and recommended for use if you intend to wear your lashes for a one-off special occasion and do not intend to follow up your treatment with regular infill treatments.  The mascara will help to fill in the gaps as you start to loose your own lashes while new ones are pushing through.  Because the mascara is oil free it will continue to give longetivity to the remaining lashes without breaking down the glue bonds.