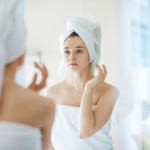 For optimal skin health two fundamental factors are key;
1)  A daily regimen that involves cleansing, exfoliating and moisturising
2) Using suitable products for your skin type.
*In addition balancing a healthy lifestyle will visibly improve your skin's quality and tone.
Taking Dermalogicas vast range of products into consideration the below cleansing regimes are a simplified approach towards achieving optimal skin health.  The selected regime according to skin type should be done twice daily, (morning and evening) the morning regime include protecting spf formulas whilst evening time formulas work to heal and repair and hydrate skin.
From the outset Drier skin types benefit by using richer formulations enriched with antioxidants. In this way dry, dehydrated skin feels adequately nourished and hydrated without adding excess oils to the skin. The multivitamin and antioxidants in a richer formulation may be more suitable for nighttime, but can also be used daily with the added protection of a broad-spectrum sunscreen. It's important to choose a noncomedogenic formulation since the texture is richer in this case. *Dermalogica products are non-comedogenic, free of artificial fragrances and colours, paraben-free, vegan, gluten-free and cruelty-free!
Whilst for Oily skin types – the key ingredients to look for in your products will include exfoliating agents eg, Salicylic Acid + Vitamin A.  Clay masks and Sulphur help to absorb excess oils whilst Tea Tree provide antibacterial benefits.  Niacinamide improves skin texture and water-based products are essential for oily skin types to help hydrate and rebalance skin.
*If you are unsure of your skin type why not get in contact to arrange a FREE Skin Consultation 
The key Dermalogica facial skincare products as detailed in the individual regimes below when used daily will effectively treat specific skin types in particular normal/dry skin, menopausal mature skin and oily acne skin conditions.
CLEANSING ROUTINE FOR NORMAL / DRY SKIN
PreCleanse: This oil based cleanser which turns milky when emulsified with water removes surface daily grime and makeup and prepares skin for thorough skin cell second cleanse.
How to use:
Dispense into dry hands. Massage over dry face and eyes to dissolve surface oil and dirt. Concentrate on areas of congestion or stubborn debris. Wet hands and continue massaging to create a light, milky emulsion. Rinse away with lukewarm water or use dampened cotton discs to remove.  *Use daily morning and evening
Special Cleansing Gel: This refreshing lather thoroughly removes impurities, without disturbing the skin's natural moisture balance. It gently rinses away toxins and debris to leave skin feeling smooth and clean.
How to use:
Following the removal of PreCleanse, gently lather a small amount of gel in moistened hands and apply to dampened face and throat to thoroughly cleanse skin. Rinse with warm water. *Use daily morning and evening
Daily Microfoliant: Gentle but effective this iconic pulverized ultra-fine powder, when mixed with water it micro exfoliates to safely remove dulling surface debris from skin and when used daily skin feels smoother and looks brighter
How to use:
Dispense about a half-teaspoon of Daily Microfoliant into very wet hands and create a creamy paste by rubbing hands together. Apply to face in circular motions, avoiding the eye area. Massage gently for one minute, then rinse thoroughly with lukewarm water. *Use daily once a day.
Tip– If short on time mix second cleanse i.e. Special Cleansing Gel into Daily Microfoliant paste to save time
Or,  for drier flaky skin types use an alternative exfoliator i.e:
Gentle Cream Exfoliant: This cream based exfoliator on application feels gentle on skin however it is infact a true powerhouse exfoliator containing a combination of enzymes (papain) and sulphur and alpha hydroxy acids (Lactic) and Beta Hydroxy Acids (Salicylic) that effectively detach surface dead skin cells bonds and resurface skin.
How to use:
Apply like a mask to full face avoiding eye area or concentrate on areas of congestion and dry skin areas. Leave on skin for up to 10-15mins. *Use once or twice a week.
*Exfoliating is a key factor in treating dry skin. Once surface dead skin cells are removed moisturiser can penetrate deeper and work better to nourish and hydrate skin
Total Eye Care SPF15 –An effective day time eye cream that really ticks all the boxes. Contains light-reflecting mica and Lactic an exfoliating, hydrating active ingredient that helps to keep the delicate skin eye area smooth. In a nutshell it conceals, brightens, exfoliates, hydrates and protects
Or, for drier skin types use;

Intensive Eye Repair– targets dehydration lines and dry skin around the delicate eye area . This ultra-rich hydrating cream works to repair premature aging and damage around the delicate eye with Vitamin A, Wild Yam Extract and Pro-Vitamin B5. Help increase resilience and smooth skin texture with phytonutrients and botanicals of Cucumber and Arnica, as vitamins C and E plus Grape Seed Extract shield the delicate eye area against further environmental damage.
Day Time Moisturiser: Prisma Protect SPF30: On application achieves all day luminous dewy skin hydration and protection.
How to use:
Apply a generous amount to face and neck, preferably 30 minutes prior to sun exposure and as the final step of your morning cleansing regime for all day protection and hydration.
Night Time Moisturiser: Skin Smoothing Cream: Formulated with Active Hydramesh Technology this cross-linked hyaluronic acid vitamin-enriched formula best suits fatigued, dehydrated skin infusing it with 48 hours of continuous hydration.
*Tip – can also be used by day with a layer of skin booster spf50 mixed in for added skin protection
Or, for drier skin types use alternative moisturiser
Intensive moisture balance: Ultra-nourishing BioReplenish Complex moisturizer restores lipid balance to dry, depleted skin for optimal barrier performance. Clinically proven to deliver nourishment 10 layers deep. *Tip – can also be used by day with a layer of skin booster spf 50 mixed in for added skin protection
CLEANSING REGIME FOR MATURE DRY SKIN
PreCleanse follow by
Skin Resurfacing Cleanser: Cream based Alpha Hydroxy Acid – chemical based cleanser (*chemical means smooth i.e. no granular, grainy textures in the formula)
Achieve smooth, ultra-clean skin with this highly-active, two-in-one cleanser and exfoliant. Lactic Acid concentrate helps retexturize skin suffering from visible signs of aging by removing dulling surface debris and helping to accelerate skin cell turnover. Antioxidants condition skin while Rose Flower Oil refreshes the senses. *Use daily to dramatically improve skin texture and properly prepare it for maximum penetration of AGE Smart products.
How to use:
Following the application of PreCleanse, lightly lather in hands and apply to damp face and throat morning and evening, massaging with light, upward strokes for at least 30 seconds, avoiding the eye area. Reduce to one use per day if any sensitivity develops. *Follow with Dynamic Skin Recovery SPF50 when used in the morning.
Or, alternatively after Precleanse can use physical exfoliator (i.e. slightly granular)
Daily Superfoliant: This highly-active resurfacer delivers your smoothest skin ever, and helps fight the biochemical and environmental triggers known to accelerate skin aging. The advanced powder formula activates upon contact with water, releasing powerful enzymes, skin-smoothing alpha hydroxy acids and anti-pollution technology. Activated Binchotan Charcoal purifies the skin, helping to adsorb environmental toxins from deep within the pores, while Niacinamide, Red Algae and Tara Fruit Extract help guard against the damaging effects of pollution. Not recommended for users of medically-prescribed exfoliation products.
How to use:
After cleansing, dispense about a half-teaspoon into very wet hands and create a creamy paste by rubbing hands together. Apply to face in circular motions, avoiding the eye area. Massage gently for one minute, then rinse thoroughly with warm water. Use daily once a day. For more sensitive skin, apply on alternate days until skin acclimates.
Anti Oxidant Mist: – refreshes, firms and hydrates and protects skin
How to use:
After double cleansing spritz directly onto face and neck, avoiding the eyes. *Tip – ideal to use as a refreshing spritz over make-up throughout the day.
 Targeted Treatment
C12 Pure Bright Serum: Lightweight and easily absorbed. This highly active advanced formula treats hyperpigmentation (brown spots, discolouration and uneven skin tone) helping to increase skin luminosity.
How to use:
After cleansing, apply directly to areas of uneven skin tone. Allow one minute for product absorption follow with moisturiser. *For best results, use daily morning and night.
Eye Treatment: Multivitamin Power Firm –A powerful firming complex combats visible lines around the eye area. Vitamins A, C and E, plus organic silicones promote elasticity and improve smoothness.
Or
Biolumin-C Eye Serum: Lightweight serum delivers a highly-bioavailable Vitamin C complex to the skin around the eyes to dramatically brighten and visibly firm.
How to use:
Apply chosen eye cream under the eye and along the orbital bone morning and evening. Keep out of eyes. Use daily day and night
Day Time Moisturiser: Skin Dynamic SPF50: Help minimize the appearance of skin ageing with this Antioxidant medium-weight, emollient daily moisturizer with Broad Spectrum spf50. This unique polypeptide help improve the appearance of photoaged skin. Active sunscreens protect against UVA and UVB rays. Blends smoothly over skin for a perfect finish.
How to use:
After cleansing and toning, apply a generous amount to face and neck, preferably 30 minutes prior to sun exposure.
Skin Perfect Primer SPF30: Protective primer for flawless looking skin – smoothes out fine lines, brightens & protects achieves visible luminosity, radiance and more even skin tone
How to use:
Wear alone over your moisturizer, or after moisturizer application and before foundation, to help decrease the appearance of fine lines for a lasting make-up finish.
Night Time Regime;
Cleanser: Gentle cleansing gel/cream for reactive skin. This pH-balanced, non-foaming cleanser helps calm and cool reactive, sensitized or overprocessed skin. Delicately fortifies skin's protective barrier without leaving an irritating residue, and easily rinses away or wipes off, making it ideal for sensitive skin.
Eye Treatment: Age Reversal Eye Complex: 
Advanced, microencapsulated Retinol helps smooth away the signs of skin aging around the eyes. Microencapsulation technology optimizes Retinol potency and absorption to help reduce the appearance of fine lines. Microencapsulated Niacinamide and Ash Tree Bark Extract maintain hydration and reduce visible dark circles. A powerful Age Reversal Firming Complex works synergistically with antioxidant Vitamin C, powerful peptides and botanical extracts to fortify and smooth skin.
Night Time Moisturiser: Super Rich Repair: Deeply nourishing skin treatment cream for chronically dry, dehydrated skin. Heavyweight cream helps replenish skin's natural moisture levels to defend against environmental assaults. Powerful peptides and an acid-free smoothing complex support skin resilience and tone. Shea Butter and Oil of Evening Primrose help replenish and hydrate, while antioxidants help defend against free radical damage. Store at room temperature.
CLEANSING REGIME FOR OILY SKIN
PreCleanse: This oil busting emulsifying cleanser which turns milky when emulsified with water removes surface daily grime and makeup and prepares skin for thorough skin cell cleanse using the prescribed second cleanser.
Adult Cleanser for oily skin: Clearing Skin Wash – Foaming cleanser helps clear skin and reduce visible skin ageing. Salicylic Acid, a Beta Hydroxy Acid, stimulates natural exfoliation to help clear clogged follicles and smooth away dullness that contributes to visible skin ageing. Menthol and Camphor help cool the skin. Contains extracts of Balm Mint, Eucalyptus and Tea Tree. Skin is left clean and prepped for optimal absorption of Active Clearing treatment ingredients.
Please be aware that this product contains highly active ingredients *Contraindications: If skin experiences sensitivity or dehydration from daily use, reduce use to 2-3 times per week. Discontinue use if irritation occurs. Use as directed. For external use only. Keep out of eyes. Please note that product packaging may vary. How to use:
After cleansing with PreCleanse work a pea-sized amount of clearing skin wash into a lather in wet hands. Apply to dampened face and throat, massaging in circular motions while concentrating on areas of congestion and oiliness. Avoid eye area. Rinse thoroughly with warm water.
Teenage Cleanser for oily skin; Clear Start Foaming Wash: This breakout fighting, foaming wash clears away dead skin cells, dirt and excess oils that clog pores and cause breakouts. Use on your face, back, neck…wherever skin requires deep cleaning and pore clearing for fewer breakouts.
Clear Start™ is tough on breakouts, gentle on your skin: potent active ingredients and naturally gentle botanicals deliver your clearest, healthiest skin ever.
Or alternative use a combination of products;
How to use:
Morning and night, lather a small amount in damp hands, then rub over face, neck, chest anywhere you want to wipe out dirt and breakouts. Keep out of your eyes. Rinse thoroughly with warm water.
Targeted treatment for breakouts
Age Bright Clearing serum – This active two-in-one concentrated serum containing salicylic and niacinamide targets breakouts, clears & brightens skin
How to use:
After double cleansing skin apply a thin layer and allow to dry. Use all over the face and under your recommended Dermalogica moisturizer twice a day, as needed.
Charcoal Rescue Mask – detoxifies, purifies, controls sebum production, smoothes and mattifies skin
How to use:
After cleansing, apply generously to face and throat, avoiding the eye area. You may experience slight tingling. After 5 -10 minutes, lightly massage with very wet hands to enhance exfoliation properties during removal. Rinse thoroughly. Use 1-2 times a week or whenever skin needs detoxing or mystifying. Follow with recommended Dermalogica moisturiser
Day Time Moisturiser: Oil Free Matt SPF30: Broad Spectrum sunscreen helps prevent shine and skin ageing on oily, breakout-prone skin. Lightweight, ultra-sheer formula contains an advanced blend of Zinc Gluconate, Caffeine, Niacinamide, Biotin and Yeast Extract. Oil-absorbers help maintain an all-day matte finish, preventing shine without any powdery residue. Sheer formula provides defense against skin-ageing UV light.*please note packaging may vary
Night Time Moisturiser: Active Moist: Sheer, easy-to-apply. Oil-free, water-based 'Active Moist' formula contains Silk Amino Acids and a unique combination of plant extracts that help improve skin texture and combat surface dehydration.
How to use:
Apply over damp face and throat with light, upward strokes. *Best when used following Multi-Active Toner to enhance moisturizer absorption.