Karin Herzog  – VITA–A-Kombi 2 – Best Day Moisturiser (Age 40+)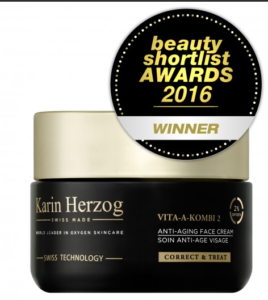 This intensive anti-aging and detoxifying treatment contains 2% oxygen to assist in normalising and hydrating dry oil or combination skin while diminishing the appearance of wrinkles.
Stabilised liquid phase oxygen is transformed into oxygen gas on contact with the skin, propelling essential nutrients and water deep into the skin to energise the collagen and elastin producing cells.  Oxygen creates a micro massage effect flushing out built up debris and toxins to fight blemishes and purify the skin.
Encapsulated Vit A converts to Retinol (acidic form of Vitamin A) when delivered into the deeper layers of the skin, yielding all anti-aging benefits of retinoic acid, without the side effects of irritation, drying or photosensitivity.
For more information about the benefits of this product click the link Karin Herzog
Click the link to read more on the Beauty Shortlists Awards winners and finalists 2016