ProSkin45 Back Treatment
£55
An advanced skin detox treatment to address spotty congested skin concerns on the back and target treat P-Acne causing bacterium at source
Includes; Skin Consultation & Analysis,  Steam Double Cleanse + Resurfacing & Skin Detoxing Masque Treatment + Extractions procedure + advanced Ion-Active Treatment with touch therapy and skin sterilising, spot zapping High-Frequency technology
*Course of treatments is recommended for very congested acneic back skin conditions
Course of 6 ProSkin45 Back Treatments
£300
We are committed and extremely dedicated to helping you achieve your Clear Skin goals.
By taking a course of treatments you are committing to a process to help toward resolving your skin concern.
*So you can achieve the best possible results from your course of treatments please be advised treatments must be taken either weekly or fortnightly and the Course must be completed by 12 weeks from the start of your treatment.
PhiBrows is a manual, semi-permanent technique of hyper-realistic eyebrow drawing i.e. Microblading hair-like strokes in which the shape of eyebrows is calculated according to facial morphology and golden proportion (phi 1,618).   In some cases both strokes and a shading technique are applied to achieve the desired shape of the eyebrow.
The technique is intended for anyone over the age of 18 (persons under 18 must be accompanied by their parents) wanting to correct the aesthetic problems of their eyebrows.   The skin in the eyebrow area must be in good condition and not sensitised in any way.  Abrasive treatments such as peelings, fruit acids, chemical peels, Retin/A, laser treatments and similar should be avoided a month before the treatment. Also, one month before the treatment, botox or fillers should not be used.
Symmetry is calculated using PhiBrows application. It is calculated while the clients' eyes are closed because in that way mimetic muscles that can affect eyebrows' symmetry are relaxed.
Strokes are always drawn in the direction of natural hair growth in order to achieve realistic/ natural eyebrow look. Treatment is done by using sterile and disposable tools, while pigments are of the highest standard (PhiBrows microblading pigments).
Pigment is applied manually in the surface layer of the dermis. Pigment is determined according to the natural color of the eyebrows and hair.
Pain during the treatment is relative. Some feel more sensitive to pain, while others compare such pain with the one that they feel when plucking out their eyebrows.  Numbing in the form of cream or liquid is applied to completely eliminate pain during the treatment.
*Inserted pigment is very dark during the first 5 to 7 days. 7 days later, it loses up to 40% of its intensity. If you think that pigment is too dark, do not try to fade it by yourself. Be patient, first wait for 7 days until it fades away naturally. After healing, pigment can appear brighter compared to natural hair color.
Correction/Touch Up is done a month after the treatment as 10-15% of strokes are lost after the first treatment.
For how long the pigment will be retained mostly depends on the skin oiliness. The oilier the skin is the shorter pigment retention is. Sweating and sun exposure also affect pigment retention whilst antibiotics and hormonal treatments can also lead to pigment fading faster. * On average, expected time until new refreshment of pigment is 10 to 12 months. If the skin is oily, it takes up to 6 months. Healing is completely done 28 days later and then it is necessary to add the pigment that was lost in the meanwhile. If the skin is problematic and oily, several such corrections can be made.
*Post-treatment care makes 70% of total treatment success. Conscientiously stick and adhere to the given aftercare advice, because if you don't do that, you can lose up to 80% of drawn strokes.
A mandatory consultation appointment is required pre-treatment.  This is to rule out any possible contra-indications to treatment and also a necessary scratch & patch test is performed during this appointment.  Pending consultation and patch test the actual treatment itself can then be booked anytime after 48 hour patch testing period.
The cost of treatment is £300 which includes the touch-up appointment. *Please allow up to 3 hours for treatment
Our 'Salt & Saline' system method for Permanent Make Up (PMU) Tattoo Removal is most suitable for eyebrows!
It's a safe and simple Tattoo Removal method that's suitable for all skin types to effectively lighten and fade away unwanted old or new eyebrow tattoos.
How does it work?
The process involves numbing the area prior to treating initially with saline using a fine needle to insert and prepare the skin for the salt paste which works to draw out the pigment/ink of the unwanted eyebrow tattoo to the surface of the skin.  *Desired results from treatment can take from 1-4 treatment sessions.
Who is this (Salt & Saline Tattoo Removal) treatment most suitable for?
It's suitable for anyone looking for a safe option to remove an undesirable old or new tattoo/PMU work on the eyebrows or, discoloured eyebrows eg, blue, orange, purple eyebrows etc
Individuals who are patient and can follow essential aftercare
*Persons on blood-thinning medications are not suitable candidates for this treatment
*Recommended for eyebrow removal as opposed to larger body tattooed areas
What can you expect post-treatment?
The treated skin in the eyebrow area can feel tender post-treatment for a few days
The area can stay pink or discoloured for several weeks as the area heals
*Expect scabbing. This is natural. Let them fall off naturally!
Tattoo fading happens gradually over 6 weeks.  During this time the existing tattoo will become lighter but a full removal should not be expected.  *Desired results should be seen in 1-4 treatments taken at least 6 weeks apart
Healing takes up to 6 weeks. *The area can be re tattooed after the skin has healed.
Aftercare
The area must be allowed to dry off and scab over.  In this way, the salt can activate and draw more pigment out of the skin.  For this reason *do NOT apply moisturising creams, healing balms or soothing oils to the area. *The essential aftercare is as follows;
The treated area must be kept clean and dry.
Avoid touching the area.
*Do not pick off scabs!!
What is the cost of Salt and Saline Tattoo Removal treatment?
Treatment takes up to 1 hour and is charged at £60 per treatment session
Why in some cases will it take up to 1-4 treatments/sessions to remove?
In some cases, 1 treatment can remove a tattoo but on average a few treatments are required for complete removal.  After the first treatment and according to the contributing factors outlined below will indicate how many sessions will be required.  The contributing factors why more than 1 treatment on average are required are as follows;
Time Factor: How recent the tattoo was done
Pigment Factors: What type of pigment to be removed, how saturated the pigment is, the pigment depth and how much pigment in the eyebrow area is to be removed
Skin Factors: How sensitive the skin is and how well it heals
Aftercare Factor: How well the aftercare advise was followed
Why consider Salt & Saline Tattoo Removal system over Laser tattoo removal?
When compared to alternative expensive Laser eyebrow tattoo removal treatments, this more natural solution i.e. 'Salt and Saline Tattoo Removal system has many preferred benefits as it does not damage the natural eyebrow hair in the process and has fewer risks of hypo/hyperpigmentation, blistering and scarring. In addition whilst Laser works by emitting certain wavelengths to break up certain pigment/ink colours *leaving the body to absorb the unwanted ink our preferred *Salt and Saline removal method has a very different approach as it draws the pigment/ink to the skins surface to remove it safely from the body and the tattoo becomes significantly lighter and may fade away completely over time. This system also is colour agnostic meaning it can effectively remove all colour pigments from skin including white!
Conclusion
If you're not happy with the shape of your eyebrows why not pop in for a consultation to find out your best treatment options.  *To read more about Phi Microblading services I offer just click the relevant tab box above to find out more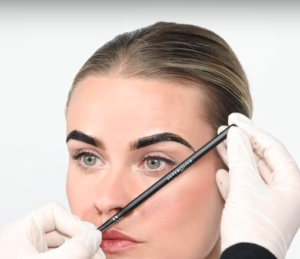 Henna Brows – Eyebrow Tattoo without needles!!
If you have ever considered 'Microblading' but too cautious to consider ever doing it then..
Henna is a great alternative to 'Microblading' as it involves the same precise eyebrow mapping techniques to create perfect eyebrow symmetry as well as considering individual facial features and skin tone to consider correct shape and colour.
With more staying power than tint, Henna pigment lasts on the eyebrow hair for up to 6 weeks and on the skin for up to 2 weeks.  It creates stunning powder effect on the brows and effectively camouflages gaps caused by over plucking.  If you are currently using eyebrow stencils and make-up or pencilling in then save yourself some time and have a Henna Treatment instead.  *It's the ultimate solution for anyone with sparse eyebrows that require definition, symmetry and shape.
*A mandatory 48hr patch test is required pre treatment
To learn more about the Henna we use – Supercilium Henna click on the link here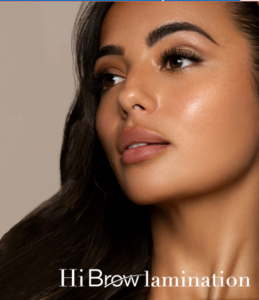 Wake up every morning to Perfect Brows!!
Brow Lamination treatment (which includes threading or waxing to remove excess hairs outside the brow line) is a new and exciting salon treatment developed by professionals to meet the desire for perfect brows day after day without the need to constantly groom brows into place.
In just 30 minutes the Hi Brow Lamination treatment accurately grooms brow hairs into perfect placement that will stay in place for up to 8weeks!!
This treatment is a game changer for those bristly, unruly, thick, curly brow hairs. No need anymore to waste time and money on products with no staying power in home efforts to tame brows.  *For long lasting results the solution is Brow Lamination.
For those with fine or sparse brows the results are transformational as it will give the appearance of fuller brows that are expertly styled into place.
If you have ever wished for perfectly groomed eyebrows, stop wishing and get booking. For ease of access just click on the link here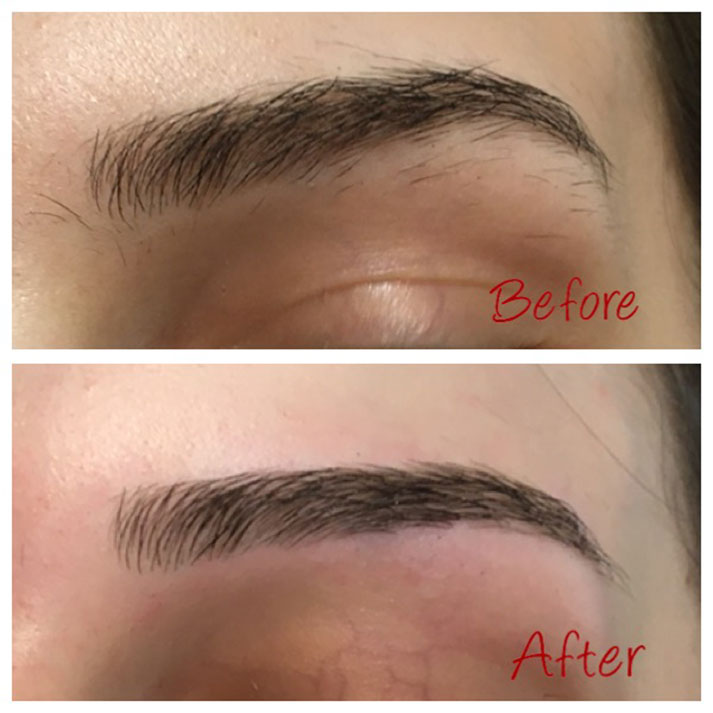 This original middle eastern specialised technique is the ultimate in precision hair removal for eyebrows and facial hair to leave a clean seamless finish.  The hair is completely removed from the root and depending on your natural hair growth, will determine how regular threading visits are recommended but usually it's every 2-3 weeks.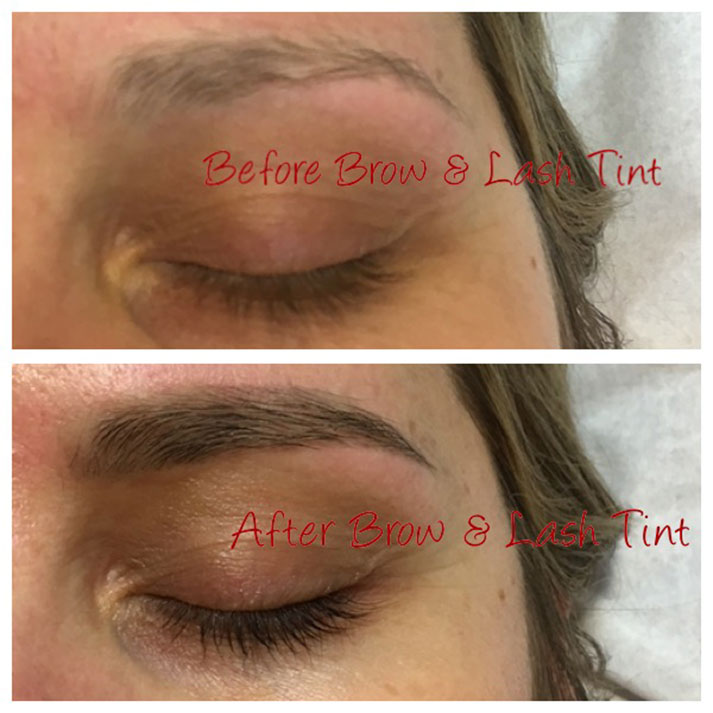 Restore the colour to your Eyebrows and Eyelashes by tinting them.
Tinting your Eyebrows can really help to enhance and define your natural brow shape and give you the illusion of a fuller eyebrow shape.
Tinting your Eyelashes can really help to accentuate your eyes and enhance your natural eyelashes giving the illusion of fuller and longer looking eyelashes as the tint will reveal eyelashes you didn't realise you had before.
Check out the Pricelist for savings on the combo treatments for;
Tinting Eyebrows & Eyelashes
Eyebrow Thread & Eyebrow Tint
Eyebrow Thread & Tint and Eyelash Tint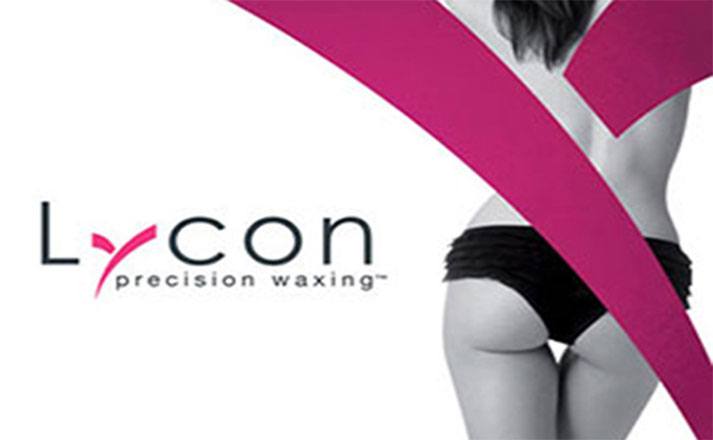 Originating from Australia, 'Lycon' premium brand quality Hot Wax is used for hair removal in the intimate areas, underarm and facial hair and effectively removes hair as short as 1mm.   A pre oil is applied prior to wax application, this helps to shrink wrap the hair so there is less pull/pinch sensation on the skin by up to 70%.  It is probably the most virtual painfree wax experience you will ever experience!!  Regular visits are required and again depending on your own hair growth cycle average is every 4wks for intimate wax and from 2-3wks for facial waxing.
Lycon Strip Wax is used for all other body areas, efficiently and effectively removes body mass hair.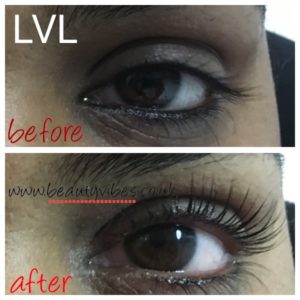 So what is an LVL Lash Lift Treatment?
LVL stands for Length, Volume & Lift and is a revolutionary eyelash lift treatment, created exclusively by Nouveau Lashes.
The results of this treatment are eye transforming as it gives a natural wide eyed youthful appearance to the eyes as eyelashes are completely revitalised and transformed to reveal longer, thicker, darker, lifted, luscious eyelashes and all without the need for adhesives, extensions or even mascara!!
How it works?
The treatment involves lifting and separating the lashes from the root which creates the appearance of natural longer and thicker lashes and the lash tint creates the mascara affect which altogether creates very flattering eyelash effects.  No more eye curlers or mascara required!
The Benefits for you!
This will prove to be a big time saver to your usual makeup routine in the mornings as you realise that you can wake up every morning with longer, darker and lifted eyelashes!
Lashes stay lifted as you dip in and out of swimming pools, saunas, steam rooms, hot showers, rain showers etc etc. making it a very popular choice of treatment all year round and in particular prior beach holidays.
*Results last 6-8wks however may vary dependant on your lifestyle.
*It is recommended you treat your lashes with Nouveau Lash & Conditioning serum (Retailed at Beauty Vibes – £20) as part of the ongoing aftercare.  This serum is formulated with hydrating, nourishing ingredients to keep your lashes, moisturised, glossy and super healthy and is offered to you at half price (£10) if purchased with your LVL Lash Lift treatment.
*A mandatory patch test is required 48hrs prior to treatment. 
Patch Test 
If you have not had an LVL treatment at Beauty Vibes before please book your LVL consultatation appointment first and at least 48hrs prior your intended LVL Treatment appointment date.  During consultation your natural lashes will be assessed and if considered suitable for treatment the patch test will be performed.  You will be patch tested for all soloution formulas used to complete the LVL treatment including the tint. The LVL Treatment appointment date will also be scheduled at the consultation.
*A £10 non refundable booking fee will be taken at the consultation appointment and will be redeemed against the remaining balance the day of treatment.
You will be required to leave on the solutions applied for a period of 48hrs.  If you experience any itching, redness or irritation during this period you will be required to remove the solutions immediatley and rinse the area thoroughly.  This will mean you are not suitable to have the LVL treatment.  If however you experience no adverse reaction to the patch test treatment can go ahead as scheduled.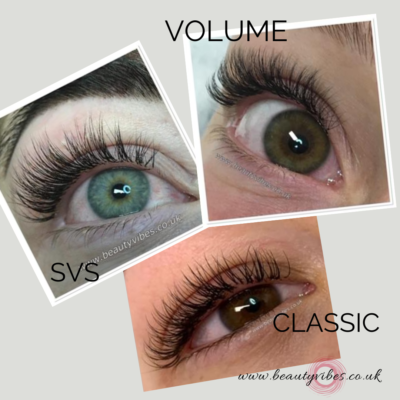 Semi-permanent eyelash extensions are recommended for those that like to wear eyelash extensions long term as due to application technique involved these lashes can be maintained and will therefore require infills every 2-3 weeks.
As new lashes grow the existing natural lash holding the extension shed thus the lashes start to look gappy so infills are then required to fill in the gaps and this is usually every 2-3 weeks
Classic Eyelash Extensions – Individual lash on lash
The technique applied means isolating each and every one of your own natural eyelashes and placing an individual eyelash extension on top.
The extensions selected to be placed on to your lashes depends on the health and structure of your own natural lashes regards, weight and length that the natural lashes can support as well as the lash style you are aiming for. In every case the natural eye shape and face shape is considered so the extensions applied will accentuate and flatter the eyes and your facial features.
SVS – Soft Volume Semi-permanent eyelash extensions
Ideal for anyone with sparse natural eyelashes requiring long term wear soft volume lashes but without the false lash effect
The technique involves applying multiple handmade lightweight lash fans in varying widths/dimensions (can be from 2d up to 6d) to each individual natural lash (without putting any strain on the lashes), creating soft volume and definition and a fluffy more wispy textured top lash line effect
Volume Lashes – Volumised top lash line finish
Achieves a more dramatic, volumised look.  The technique involves applying multiple lash fans to each individual natural eyelash (without putting any strain on the lashes) in varying dimensions usually from 3d-4d to achieve more dramatic, volumised eyelashes.
*A patch test is recommended if your eyes are sensitive.  This way we can test you on all elements used to complete the treatment.  The eyes will be gently cleansed with products we use to remove natural oils from the lashes, eye pads will be applied and a few lash extensions will be applied to the outer lashes on each eye – usually 3 per eye.  If no irritation or sensitivity is experienced over the next 48 hours then the lash appointment can go ahead.
Allow up to 2-2.5 hours for a full set of semi-permanent eyelash extensions treatment
*For more information on recommended Pre Treatment Advice click the link here
*For recommended Post Treatment – Aftercare Advice click the link here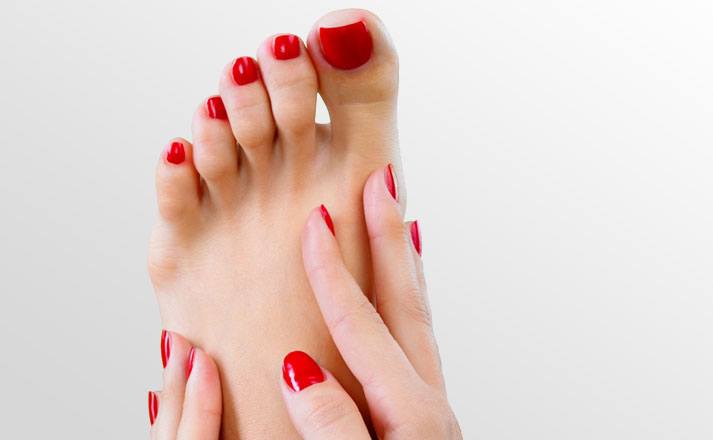 Your hands and feet never take a day off so let us take very good care of them!!
Mini Mani – 30mins
Perfectly suited for already well-manicured nails requiring just a quick file and pop of colour.
*If however, it's been more than two weeks since your last actual manicure service then choose from either an Express, Deluxe or Luxury Manicure treatment.
Express Manicure – 45mins
The is perfect for those short on time requiring essential nail shaping and cuticle work as well as an optional pop of colour.
Deluxe Manicure – 60mins
This treatment involves all the elements of the 'Express' manicure but with an additional nourishing and hydrating vitamin-enriched massaging exlir applied to hands and lower arms providing relaxing and soothing skin revitalising benefits and ultimately promoting blissful feelings of general wellbeing.
Luxury Manicure – 90mins
Our luxury manicure treatment is the ultimate in sheer blissful feel-good manicure pampering indulgence. This treatment involves all the elements of the relaxing Deluxe manicure but with additional elements added which include a skin brightening exfoliating treatment as well as a luxurious hydrating hand mask treatment.   This luxury treatment provides transformational skin softening and hydration benefits to the newly resurfaced skin.
Deluxe 'Footlogix' Pedicure Treatment – 60mins
A pediceutical treatment that takes your feet on a journey from "Woe to Wow"
*'Footlogix' is a pharmaceutical grade pedicure line.  Its clinically proven ailment curing active ingredient formulas penetrate deep to cure simple dryness to addressing more severe trouble skin foot conditions.
The treatment involves a detoxing 'Footlogix' foot soak and seaweed formulated skin exfoliation from foot to knee.  Our medical-grade foot file effortlessly removes hardened callused skin on the souls of the feet whilst the rehydrating foot mousse treatment conditions newly resurfaced skin areas. Probably the most memorable part of a 'Footlogix' treatment is the relaxing foot and lower leg massage that deliver nourishing and hydrating benefits skin deep.  *Your feet will never feel slippery after a 'Footlogix' treatment as 'Footlogix' unique formulas completely absorb into the skin.  In just 60 minutes results reveal feet transformed to hydrated and smooth and feeling completely re-energised.
*Just to make sure you walk away with the prettiest of feet we offer all ladies an optional FREE toes wax!!
Luxury 'Footlogix' Pedicure Treatment – 90mins
Why not relax and unwind for that little bit longer and treat yourself to our most luxurious pedicure for a more indulgent pampering experience.  This treatment involves all the elements of the Deluxe 'Footlogix' pedicure treatment but includes an additional thermal mask foot wrap treatment.  This unique brush-on thermal foot mask application feels blissfully relaxing on application and provides skin softening and hydration benefits.  Results reveal transformational hydrated silky smooth feet sure to leave you feeling like floating on air.
*These Luxury manicure & pedicure treatments also make great gifts for that someone special deserving of a nurturing feel-good pampering treat.
For more info about the brand Footlogix click on the link here  
Polish brands available range from Butter London, OPI, CND Vynlux
Gel polish brands include Gelish, CND Shellac and OPI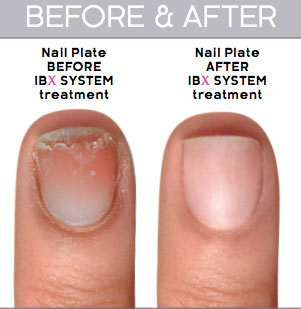 IBX is a New & Revolutionary two-part system that acts as a Protective Shield for the natural nail under any Gel Polish Coating and can also be used as a Natural Nail Strengthening System to grow natural nails more readily on their own! This penetrative toughening system works inside the nail (instead of top), is cured with LED light and forms an interpenetrating polymer network that fuses the upper layers of the nail together. The result is a tougher natural nail that can grow on it's own or act to protect the nail against frequent and potentially damaging removal.)
Boost the health of your natural nail with a single treatment of IBX or for very badly damaged nails a course of IBX treatments is recommended.
Buy a course of six treatments and you get the sixth one FREE!!
* For optimal results treatments should be taken every 2wks apart.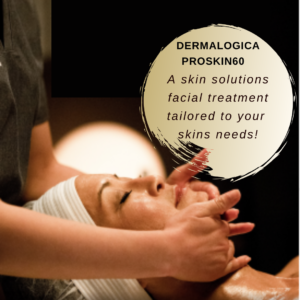 Dermalogicas range of professional and innovative scientifically advanced potent formulas can make a real impact on conditions such as; adult or teenage acne, sensitised Rosacea skin types, hyperpigmentation and other ageing skin concerns.  Whatever the skin condition we have the right expertise and the tools to help you achieve clearer, brighter, firmer skin.
ProSkin60 Facials – 60min – £65 (relaxing bespoke facial treatment tailored to your skins needs)
A customised 60min relaxing facial treatment using advanced formulas to address specific skin concerns to purify, replenish and revitalise skin alongside manual touch therapy techniques (i.e facial massage and neck & shoulder massage) which help boost blood circulation, condition the skin and improve general well being.
*ProSkin60 facials feel blissfully relaxing and are the ultimate choice for those that prefer a more manual touch therapy facial treatment.  *Optional use of Ultrasonic blade for enhanced resurfacing, rehydrating and lifting skin benefits is also available and included in the ProSkin60 facial.
Following the Dermalogica signature pre cleanse and face mapping skin analysis one of the following ProSkin60 Facial Treatments will be recommended for you;
ProSkin60 – Deep Cleanse – focus is on deconjesting the skin.  Process involves, manual extraction of blackheads & whiteheads using customised Dermalogica potent skin detoxing formulas to target treat problematic areas and condition the skin for a sustained healthier skin function. *Optional recommended High Frequency treatment included in this facial produces an ozone gas which has a sterilising effect on skin thus effectively treats pustules or active breakouts without any discomfort
ProSkin60 – Anti Ageing – focus is on resurfacing and revitalising skin.  Customised active cleansers (AHAs & BHAs) address specific ageing skin concerns including pigmentation that smooth and brighten whilst peptide potent formulas and relaxing touch therapy facial massage help to stimulate collagen, boost blood circulation and firm skin.  *Optional Radio Frequency treatment included in this facial has a warming effect on skin and when worked over the professional skin conditioning treatment mask provides enhanced results at cellular level to encourage new collagen formation and skin tightening.
ProSkin60 – Sensitive – focus on calming and soothing irritable skin. Specialised treatment formulas provide anti inflammatory, nourishing, skin healing benefits whilst the pressure point facial touch therapy provides additional soothing stress relief. *Optional Ultrasound wave therapy included in this facial help to push products deeper into the skin for an improved skin barrier function.
To learn more about benefits of technology used in these facials click on the link here
Note
* A bespoke treatment plan and recommended products to use at home will guarantee the best possible results and maintenance!!  For more problematic skin a course of facial treatments is advised and are available to purchase in store
*Recommended LED Light Therapy – 10min – £15 (*optional add on to either a ProSkin60 or Pro Firm Neck + Skin Facial Treatment)
*To learn more about the skin benefits from LED Light Therapy click the link here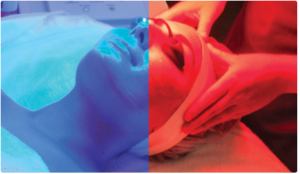 Achieve enhanced skin results with an advanced facial treatment
Dermalogica IonActive Facial Treatment– 60min – £75 (Intensive deep treatment targets challenging skin concerns)
This facial treatment incorporates ionizable serums (such as Retinol, Hyaluronic Acid, Niacinamide or skin brightening Oligopeptide) which are activated on the skin via acupressure touch therapy point facial massage as well as use of microcurrent and ultrasound. Techniques involved re-energises skin cells to better absorb serum potency and drive active ingredients into deeper layers of the skin to effectively treat challenging skin conditions such as acne, hyperpigmentation, dehydration, sensitivity and skin ageing.
Depending on the skin concern the appropriate IonActive serum or serums are selected to either treat the dominant concern eg acne or varying skin concerns eg dehydration and pigmentation.  This highly active deep treatment delivers intense results for healthier skin structure and function.
Pro Firm Neck + Skin Facial Treatment – 60mins – £95
Dermalogicas newest facial treatment effectively treats premature ageing skin concerns associated with the neck as well as the face in one single facial treatment.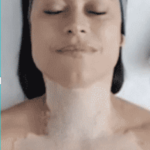 This treatment functions like a workout for your neck and face utilizing a unique combination of fascia (deep tissue) massage techniques as well as microcurrent that work to lift, tone and firm + select key products with their innovative active ingredients formulas (such as the new – neck fit refining masque which has a tingling effect on skin) work in synergy to retexturize and replenish for smooth revitalised skin.  *This facial treatment is a great solution for anyone concerned with skins loss of elasticity and tone on the neck and face.
 Note: For more problematic skin a course of facial treatments is advised alongside recommended products to use at home to guarantee the best possible results and maintenance!! 
*Further descriptive information about electrical modalities used in these facials and their purpose can be accessed via the link here 
Pro Power Peel
Looking for a professional peel experience?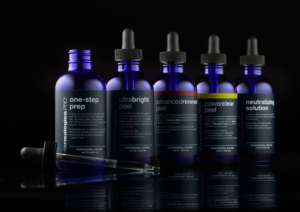 Pro Power Peel redefines the peel experience. Dermalogica's strongest and fastest peel yet, the Pro Power Peel collection features a full suite of peel products, including Alpha Hydroxy Acids (AHAs) and Beta Hydroxy Acids (BHAs).  The advanced skin resurfacing peel formula dramatically speeds up skin cell renewal process achieves advanced results in the treatment of challenging skin conditions such as ageing skin concerns, fine lines & wrinkles uneven pigmentation, acne and problematic skin.
Pro Power Peel 30 – £70 (Power Exfoliation for rapid skin cell renewal)
With a unique system of three different acids for a deep exfoliation personalised to you, the 30-minute pro power peel treatment, instantly rejuvenates and revitalises skin revealing brighter, clearer, smoother more radiant-looking skin.  It is ideal to target lines and wrinkles, uneven pigmentation or breakouts.
Pro Power Peel 60 – £100 (Power Exfoliation + IonActive Deep Treatment)
For a truly transformative skin result! This effective and customised 60-minute treatment combines the benefits of Pro Power Peel 30 treatment with additional advanced techniques and technologies. Peel results are dramatically enhanced by a supplementary deep treatment process incorporating powerful IonActive Serum™, a customised masque, LED light therapy and relaxing facial massage to ensure your skin is left clear, smooth and glowing. You've never had a peel treatment like this before!
Note –  *A 24hr patch test and skin analysis is required prior a Pro Power Peel treatment.
    *A Pro Power Peel Post Procedure Kit is provided and recommended to be used for 2-3 days to protect and help boost moisture  levels in the skin
   * For more information about Dermalogica's Pro Power Peel click on the link here