Meet Dermalogica the skin care experts that believe healthy skin care is not a luxury but a necessity!!
*In a nutshell the best sun care protection formula you can apply to your skin is one that not just protects against UV rays but in addition protects against pollution, dehydration and free radical damage and ultimately can manage and treat specific skin concerns, such as oiliness, sensitivity or skin ageing and ideally this is an all in one skin care product formula..
Dermalogica have categorised their wide range of products relating to specific concerns under the following categories;
Age Smart – treats Ageing skin concerns
Ultra Calming – manages Sensitive, Reactive skin types
Medibac – treats Acne/Breakout skin types
Powerbright TRX – manages and treats Pigmentation skin concern issues
Grey Line – addresses both Normal/Dry skin types and Normal/Oily skin types
Within each of these categories, there's a relevant suncare moisturising product to address specific skin concerns whilst providing essential broad spectrum UV protection.  Below lists, some of the most popular requested SPFs from these categories and a brief description of the skin benefits they provide.  So depending on your main skin concern there is a Dermalogica all in one moisturising SPF product formulated to purposely serve your skin's needs.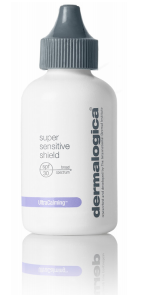 Ultra Calming – Super Sensitive Shield SPF30 – £46
For sensitive, reactive, recently resurfaces skin types – Provides soothing comfort to irritated skin
A light weight sheer physical moisturising SPF containing hyaluronic acid. This suncare product is formulated specifically for sensitive skin and without the need for chemical sunscreens.  The protecting formula contains natural mineral UV protectors in the form of micronized Titanium Dioxide and Zinc Oxide and additional anti oxidants and botanical extracts and also a skin conditioning agent – Dimethicone help further protects the skins barrier lipid layer.

Grey Line – Prisma SPF30 – £58
Suitable for all skin types – *Preventative measure against skin ageing!
*Defends, Hydrates and Boosts skin luminosity
Dermalogicas latest scientific approach to suncare protection.  Prisma SPF30 provides the best in broad spectrum class chemical sunscreens including Avobenzone, Octisalate and Octocrylene. It is formulated to block 85% of pollutants* and by using intelligent drones to convert UV light into increased skin luminosity, boosting its natural radiance whilst optimising skin's defenses.  It also contains Carbohydrate complex (Saccharide Isomerate) that binds water to skin like a magnet – providing all day long hydration!!

Age Smart – Dynamic Skin SPF50 – £66.50
Normal to Premature Ageing Skin – Manages photoaging skin concerns
This firming broad spectrum medium weight moisturiser -chemical SPF is formulated with oleosome technology which allow for optimum SPF performance while using fewer chemical sunscreens
The advanced formula helps defend against skin ageing triggers whilst stimulating collagen formation, elasticity and hydration levels minimizing the appearance of skin ageing.  *If ageing is your skin concern this is the SPF for you

Medibac – Oil Free Matt SPF30 – £46.50
Oily / Breakout prone skin – provides a skin mattifying skin protection layer
This broad spectrum, sheer and light weight chemical sunscreen contains oleosome technology – a sunscreen filled capsule that provides optimum moisturising and SPF protection benefits
The active ingredients within the formula treat oily skin type conditions as it regulates sebum production and absorb excess oils whilst antioxidants provide anti inflammatory properties.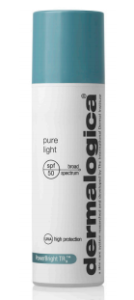 Powerbright TRX – Pure Light SPF50 – £60
Manage and treats skin concerns for Pigmentation
A medium weight SPF moisturiser with powerful Oleosome encapsulated technology benefits the skin by providing increased SPF protection whilst using fewer sunscreen chemicals.
The advanced formula contains exfoliating and hydrating ingredients and peptides that help regulate melanin production and even prevent message signals that trigger the melanin synthesis process. *This product works hard to manage pigmentation skin concerns
*Beauty Vibes is both a retail and service provider for Dermalogica.  To enquire further about retail products available for purchase in store why not pop in or simply get in contact via email, phone or social media channels @beautyvibes.co.uk
For more general information about Physical and Chemical SPF formulations click the link here