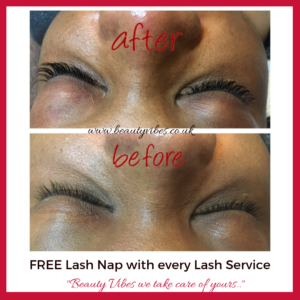 Having a full set of Semi-Permanent eyelash extensions applied is an extremely relaxing experience.
The appointment should take up to 2 hours and will require you laying on your back in a still position for the duration.  Your eyes will be gently cleansed to remove natural oils from the eyelashes and the lower eyelashes will be covered with pads to protect the bottom lashes and prevent top and bottom lashes from sticking together.  Once these pads have been applied your eyes will be required to be closed throughout the process until the treatment ends.
As sharply pointed precision tweezers are used for the application of the extensions and for general health & safety reasons, talking is not permitted during the process.
*To ensure you have the ultimate relaxing lash experience within the required time it is recommended you read and follow the pre-treatment advice as detailed below.  Adhering to these guidelines will greatly assist your mind and body to completely relax and minimise cause for disturbance during treatment.
24 hours prior to your appointment; 
Do not wear waterproof mascara.  If you have been wearing it please ensure it is completely removed.
Any previous lash extensions or tracings of glue must be completely removed
On the day of your appointment: –
Do not wear mascara.
Do not wear eye shadow makeup
Avoid applying oily products or heavy creams on your lashes or around your eyes
Contact lenses must be removed prior to the treatment
Do not consume energy/caffeinated drinks as you will not be able to relax during treatment
Do take a comfort break prior treatment to avoid interruption during treatment
Do switch your phone to silent as talking or taking calls or opening eyes is not allowed during treatment
Ensure you have allowed adequate parking time for your appointment
For general post-treatment 'Semi-Permanent Aftercare Advice' please click the link here to access