At Beauty Vibes we have a variety of on-trend brow treatments to transform even the thinnest, patchiest of brows into beautifully defined eyebrows that really can transform your face entirely.
No matter your brow shape or budget we have the brow treatments solution for you so whether you're looking for a quick fix or a long term solution understanding exactly what the different brow treatments available to you entails and the benefits gained by these different brow procedures will help you to decide what the best brow solution for you will be to help you to achieve your best brow shape ever.
From the outset, a good eyebrow shape will have a wider body part and a tail-end tapering to a pointed end with a connected brow line top and bottom without any gaps in between. This basic brow rule is the standard guideline we follow to help you achieve your desired eyebrow shape.
Eyebrow Thread & Tint – Basic Brow Shaping
Eyebrows are perfectly shaped and defined using threading technique (or waxing if you prefer) followed by tinting.  A suitable colour tint to match the undertone of the natural hair is applied.  Tinting gives the illusion of fuller looking brows and enhances the overall brow shape evening out the brows covering any greys and gaps in the brows.  The tint stays on the brow hairs for up to 4 weeks. *Treatment time is approximately 15-20mins.  Regular maintenance appointments will be required every 3wks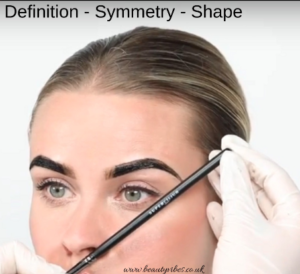 Henna Brows
Henna is a longer-lasting alternative to tinting and generally is used to create ombre powdered brow effects.  Because it's so highly pigmented Henna stains the skin for up to 2 weeks making it the perfect choice to use for very sparse and gappy brows to achieve fuller-looking beautifully, defined eyebrows.
Before application perfect eyebrow symmetry is achieved via precision eyebrow mapping and shaping.  Once henna is applied it is left to dry on the skin for up to 20-25 minutes to allow the Henna pigment to effectively stain the skin and colour the brow hairs.  Results of Henna last up to 6 weeks on brow hairs.  *A 48hr Henna patch test is required prior treatment. *Treatment time is approx. 30-40mins.  Henna Brow maintenance will be required every 3 weeks for sparse and gappy brows  and 4-6 weeks for fuller natural brows
Brow Lamination with Tint– alternatively known as Brow Sculpt
If your desire is to have big brows but nature gave you naturally thin eyebrows then Brow Lamination with Tint is the perfect solution for you as this particular brow treatment allows you to achieve fuller brows with results lasting 6-8 weeks.  The procedure allows brow hairs to be brushed up thus achieving wider more volumised looking eyebrows.
Brow Lamination is also a great choice of brow treatment to have for those with unruly, bristly curly hairs as the lamination procedure tames disruptive brow hairs allowing them to be groomed into perfect placement for up to 6 weeks.  *Treatment time is approx. 45mins -1hr depending on brow hair texture. Maintenance will be required every 6-8 weeks
*Nouveau Lash Brow Conditioning Serum is recommended to use twice daily following this treatment to nourish and maintain healthy hydrated brow hairs between treatments
Microblading- semi-permanent brow hair strokes and optional shading effects
The single best solution to achieve transformational symmetrical beautifully defined eyebrows. Results last 12-18 months. Before microblade semi-permanent hair strokes are drawn in eyebrows are numbed and perfect eyebrow symmetry is achieved via precision eyebrow mapping and shaping.  *24hr mandatory patch test and consultation is required pre-treatment
*Treatment time is approx. 2-3 hours.  A touch up will be required 8 weeks after treatment followed by annual touch up if required