Hi Brow Lamination with Henna
£70
(*Please be advised Henna can only be applied 24hrs after treatment)
Hi Brow Lamination with Tint
£55
Hi Brow Lamination without Tint
£50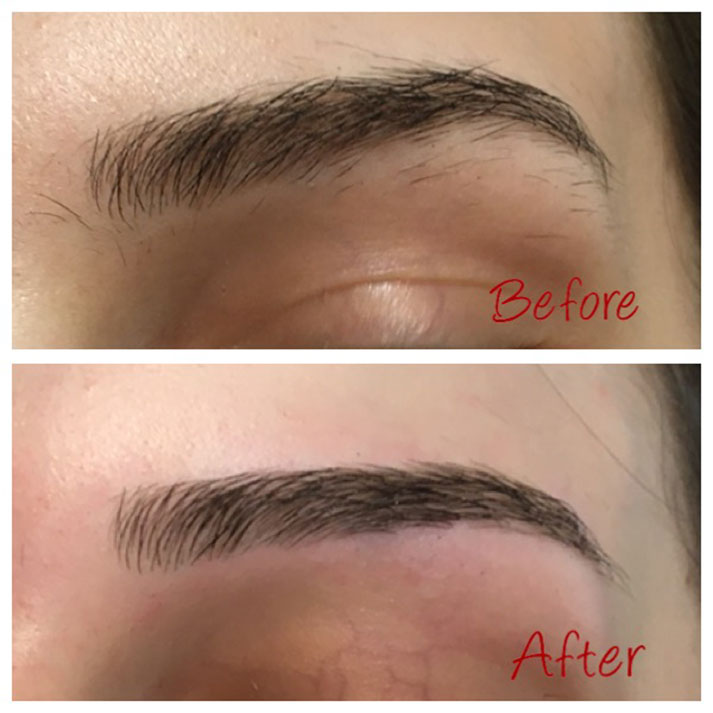 This original middle eastern specialised technique is the ultimate in precision hair removal for eyebrows and facial hair to leave a clean seamless finish.  The hair is completely removed from the root and depending on your natural hair growth, will determine how regular threading visits are recommended but usually it's every 2-3 weeks.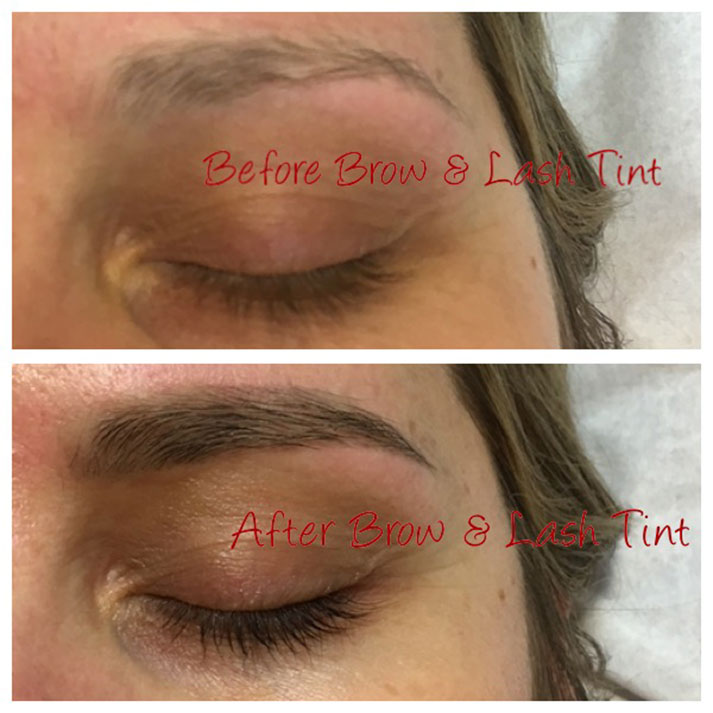 Restore the colour to your Eyebrows and Eyelashes by tinting them.
Tinting your Eyebrows can really help to enhance and define your natural brow shape and give you the illusion of a fuller eyebrow shape.
Tinting your Eyelashes can really help to accentuate your eyes and enhance your natural eyelashes giving the illusion of fuller and longer looking eyelashes as the tint will reveal eyelashes you didn't realise you had before.
Check out the Pricelist for savings on the combo treatments for;
Tinting Eyebrows & Eyelashes
Eyebrow Thread & Eyebrow Tint
Eyebrow Thread & Tint and Eyelash Tint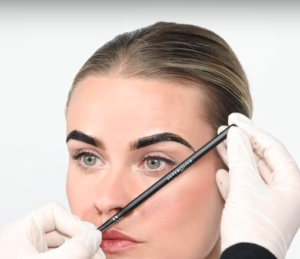 Henna Brows – Eyebrow Tattoo without needles!!
If you have ever considered 'Microblading' but too cautious to consider ever doing it then..
Henna is a great alternative to 'Microblading' as it involves the same precise eyebrow mapping techniques to create perfect eyebrow symmetry as well as considering individual facial features and skin tone to consider correct shape and colour.
With more staying power than tint, Henna pigment lasts on the eyebrow hair for up to 6 weeks and on the skin for up to 2 weeks.  It creates stunning powder effect on the brows and effectively camouflages gaps caused by over plucking.  If you are currently using eyebrow stencils and make-up or pencilling in then save yourself some time and have a Henna Treatment instead.  *It's the ultimate solution for anyone with sparse eyebrows that require definition, symmetry and shape.
*A mandatory 48hr patch test is required pre treatment
To learn more about the Henna we use – Supercilium Henna click on the link here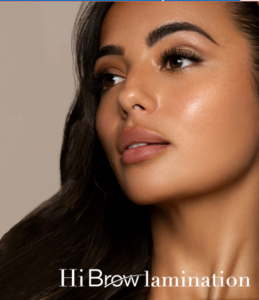 Wake up every morning to Perfect Brows!!
Brow Lamination treatment (which includes threading or waxing to remove excess hairs outside the brow line) is a new and exciting salon treatment developed by professionals to meet the desire for perfect brows day after day without the need to constantly groom brows into place.
In just 30 minutes the Hi Brow Lamination treatment accurately grooms brow hairs into perfect placement that will stay in place for up to 8weeks!!
This treatment is a game changer for those bristly, unruly, thick, curly brow hairs. No need anymore to waste time and money on products with no staying power in home efforts to tame brows.  *For long lasting results the solution is Brow Lamination.
For those with fine or sparse brows the results are transformational as it will give the appearance of fuller brows that are expertly styled into place.
If you have ever wished for perfectly groomed eyebrows, stop wishing and get booking. For ease of access just click on the link here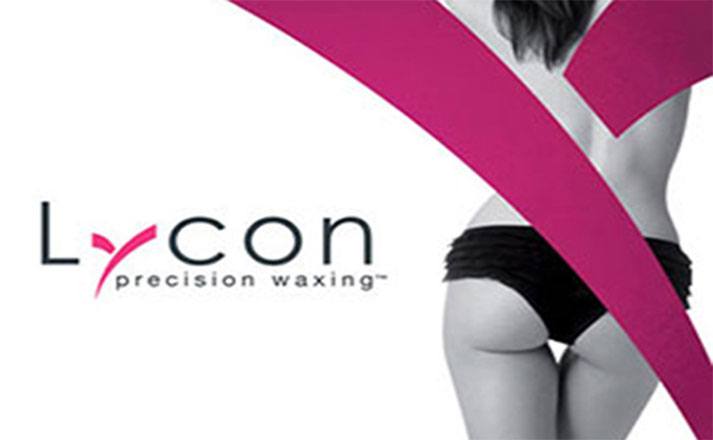 Originating from Australia, 'Lycon' premium brand quality Hot Wax is used for hair removal in the intimate areas, underarm and facial hair and effectively removes hair as short as 1mm.   A pre oil is applied prior to wax application, this helps to shrink wrap the hair so there is less pull/pinch sensation on the skin by up to 70%.  It is probably the most virtual painfree wax experience you will ever experience!!  Regular visits are required and again depending on your own hair growth cycle average is every 4wks for intimate wax and from 2-3wks for facial waxing.
Lycon Strip Wax is used for all other body areas, efficiently and effectively removes body mass hair.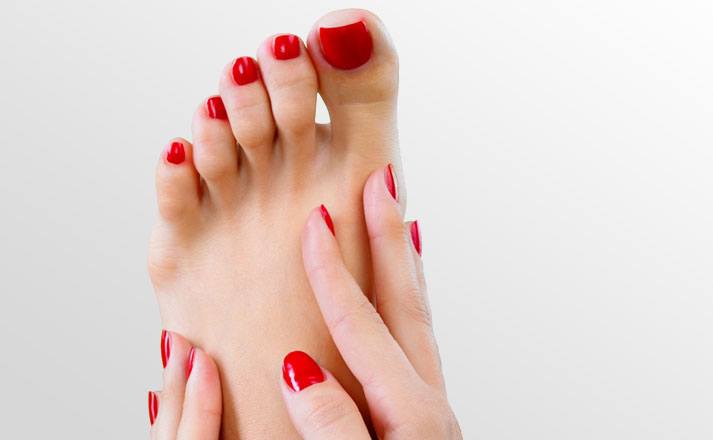 Choose from either a simple File & Polish (Hands or Feet or both)
Express Manicure & Pedicure involves nail prep including cuticle removal and finish with file and polish
Deluxe Manicure involves full nail prep including cuticle work and a very relaxing hand and lower arm massage followed by a polish application colour of your choice.
Deluxe 'Footlogix' Pedicure involves nail prep including cuticle work, removal of hard skin, an exfoliating scrub and a very relaxing foot and lower leg massage followed by polish application colour of your choice.  *Footlogix is a pharmaceutical grade pedicure line.  Its clinically proven ailment curing active ingredient formulaes penedtrate deep to cure simple dryness to addressing more severe trouble skin foot conditons.  For more info about the brand Footlogix click on the link here  
Polish brands available range from Butter London, OPI, CND Vynlux
Gel polish brands include Gelish, CND Shellac and OPI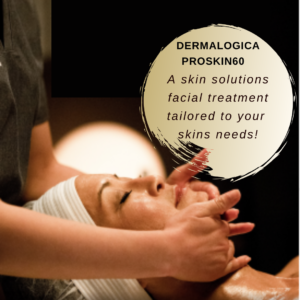 Dermalogicas range of professional and innovative scientifically advanced potent formulas can make a real impact on conditions such as; adult or teenage acne, sensitised Rosacea skin types, hyperpigmentation and other ageing skin concerns.  Whatever the skin condition we have the right expertise and the tools to help you achieve clearer, brighter, firmer skin.
ProSkin60 Facials – 60min – £65 (relaxing bespoke facial treatment tailored to your skins needs)
A customised 60min relaxing facial treatment using advanced formulas to address specific skin concerns to purify, replenish and revitalise skin alongside manual touch therapy techniques (i.e facial massage and neck & shoulder massage) which help boost blood circulation, condition the skin and improve general well being.
*ProSkin60 facials feel blissfully relaxing and are the ultimate choice for those that prefer a more manual touch therapy facial treatment.  *Optional use of Ultrasonic blade for enhanced resurfacing, rehydrating and lifting skin benefits is also available and included in the ProSkin60 facial.
Following the Dermalogica signature pre cleanse and face mapping skin analysis one of the following ProSkin60 Facial Treatments will be recommended for you;
ProSkin60 – Deep Cleanse – focus is on deconjesting the skin.  Process involves, manual extraction of blackheads & whiteheads using customised Dermalogica potent skin detoxing formulas to target treat problematic areas and condition the skin for a sustained healthier skin function. *Optional recommended High Frequency treatment included in this facial produces an ozone gas which has a sterilising effect on skin thus effectively treats pustules or active breakouts without any discomfort
ProSkin60 – Anti Ageing – focus is on resurfacing and revitalising skin.  Customised active cleansers (AHAs & BHAs) address specific ageing skin concerns including pigmentation that smooth and brighten whilst peptide potent formulas and relaxing touch therapy facial massage help to stimulate collagen, boost blood circulation and firm skin.  *Optional Radio Frequency treatment included in this facial has a warming effect on skin and when worked over the professional skin conditioning treatment mask provides enhanced results at cellular level to encourage new collagen formation and skin tightening.
ProSkin60 – Sensitive – focus on calming and soothing irritable skin. Specialised treatment formulas provide anti inflammatory, nourishing, skin healing benefits whilst the pressure point facial touch therapy provides additional soothing stress relief. *Optional Ultrasound wave therapy included in this facial help to push products deeper into the skin for an improved skin barrier function.
Note
* A bespoke treatment plan and recommended products to use at home will guarantee the best possible results and maintenance!!  For more problematic skin a course of facial treatments is advised and are available to purchase in store
*Recommended LED Light Therapy – 10min – £10 (*optional add on to ProSkin60 Facial Treatment)
*To learn more about the skin benefits from LED Light Therapy click the link here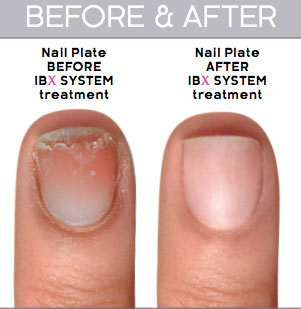 IBX is a New & Revolutionary two-part system that acts as a Protective Shield for the natural nail under any Gel Polish Coating and can also be used as a Natural Nail Strengthening System to grow natural nails more readily on their own! This penetrative toughening system works inside the nail (instead of top), is cured with LED light and forms an interpenetrating polymer network that fuses the upper layers of the nail together. The result is a tougher natural nail that can grow on it's own or act to protect the nail against frequent and potentially damaging removal.)
Boost the health of your natural nail with a single treatment of IBX or for very badly damaged nails a course of IBX treatments is recommended.
Buy a course of six treatments and you get the sixth one FREE!!
* For optimal results treatments should be taken every 2wks apart.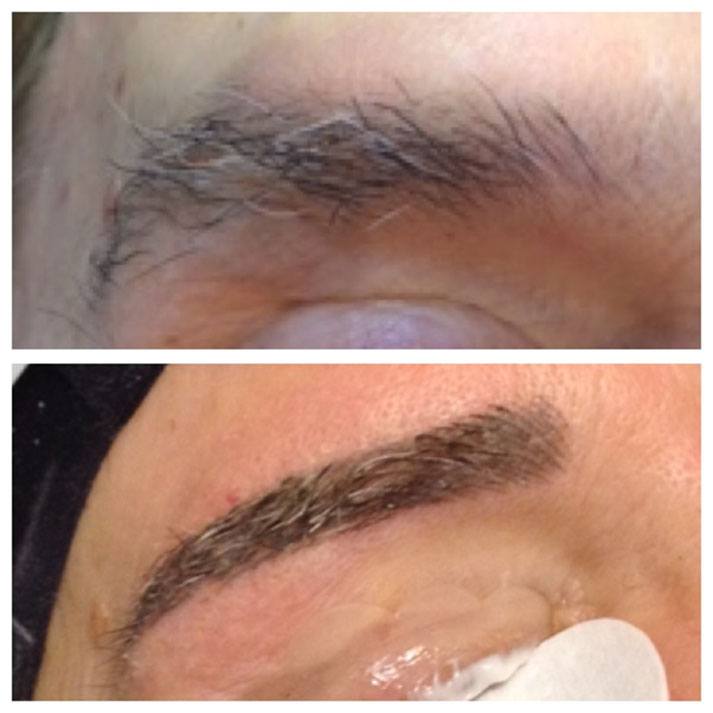 This specialised treatment is ideal for sparse eyebrows or eyebrows that require reshaping.
Eyebrows are measured and the corrective eyebrow shape is mapped out and approved by you before proceeding with the treatment. Once the final shape is agreed the eyebrows are then numbed and semi permanent hair like strokes are drawn using fine needles to create the desired eyebrow shape.  In some cases both strokes and a shading technique are applied to achieve the desired brow look.
Eyebrows might feel slightly sensitised after treatment but within 24hrs they resume normality and the healing process begins which takes up to 6-8wks and then the final true colour of the brow will be revealed.
A single touch up treatment if required can be done after a minimum of 8wks healing and within 3 months after the initial treatment date and is included in the price.
Results can last from 8-12months or in some cases even longer.
The treatment can take up to 3 hours
A mandatory consultation appointment is required pre treatment.  This is rule out any possible contra-indications to treatment and also a necessary scratch & patch test is performed during this appointment.  Pending consultation and patch test the actual treatment itself can then be booked anytime after 48 hour patch testing period.
The cost of treatment is £300 which includes the touch up appointment.  On the day of treatment the consultation fee of £10 is deducted from the overall fee leaving a due balance of only £290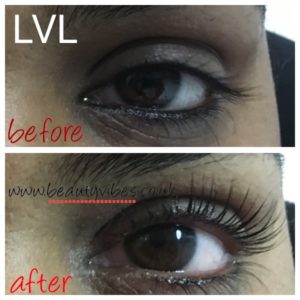 So what is an LVL Lash Lift Treatment?
LVL stands for Length, Volume & Lift and is a revolutionary eyelash lift treatment, created exclusively by Nouveau Lashes.
The results of this treatment are eye transforming as it gives a natural wide eyed youthful appearance to the eyes as eyelashes are completely revitalised and transformed to reveal longer, thicker, darker, lifted, luscious eyelashes and all without the need for adhesives, extensions or even mascara!!
How it works?
The treatment involves lifting and separating the lashes from the root which creates the appearance of natural longer and thicker lashes and the lash tint creates the mascara affect which altogether creates very flattering eyelash effects.  No more eye curlers or mascara required!
The Benefits for you!
This will prove to be a big time saver to your usual makeup routine in the mornings as you realise that you can wake up every morning with longer, darker and lifted eyelashes!
Lashes stay lifted as you dip in and out of swimming pools, saunas, steam rooms, hot showers, rain showers etc etc. making it a very popular choice of treatment all year round and in particular prior beach holidays.
*Results last 6-8wks however may vary dependant on your lifestyle.
*It is recommended you treat your lashes with Nouveau Lash & Conditioning serum (Retailed at Beauty Vibes – £20) as part of the ongoing aftercare.  This serum is formulated with hydrating, nourishing ingredients to keep your lashes, moisturised, glossy and super healthy and is offered to you at half price (£10) if purchased with your LVL Lash Lift treatment.
*A mandatory patch test is required 48hrs prior to treatment. 
Patch Test 
If you have not had an LVL treatment at Beauty Vibes before please book your LVL consultatation appointment first and at least 48hrs prior your intended LVL Treatment appointment date.  During consultation your natural lashes will be assessed and if considered suitable for treatment the patch test will be performed.  You will be patch tested for all soloution formulas used to complete the LVL treatment including the tint. The LVL Treatment appointment date will also be scheduled at the consultation.
*A £10 non refundable booking fee will be taken at the consultation appointment and will be redeemed against the remaining balance the day of treatment.
You will be required to leave on the solutions applied for a period of 48hrs.  If you experience any itching, redness or irritation during this period you will be required to remove the solutions immediatley and rinse the area thoroughly.  This will mean you are not suitable to have the LVL treatment.  If however you experience no adverse reaction to the patch test treatment can go ahead as scheduled.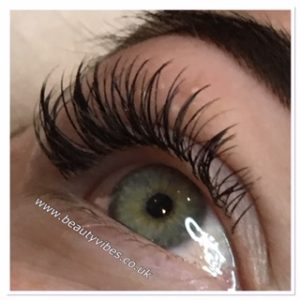 Classic Eyelash Extensions – Individual lash on lash
The technique applied means isolating each and every one of your own natural eyelashes and placing an individual eyelash extension on top.
The extensions selected to be placed on to your lashes depends on the health and structure of your own natural lashes regards, weight and length that the natural lashes can support as well as the lash style you are aiming for. In every case the natural eye shape and face shape is considered so the extensions applied will accentuate and flatter the eyes and your facial features.
Classic Eyelash extensions are recommended for those that like to wear eyelash extensions long term as due to application technique involved these lashes can be mantained and will therefore require infills every 2-3 weeks.
As new lashes grow the existing natural lash holding the extension shed thus the lashes start to look gappy so infills are then required to fill in the gaps and this is usually every 2-3wks
*A patch test is not recommended however if your eyes are sensitive it is best to consider a patch test.  This way we can test you on all elements used to complete the treatment.  The eyes will be gently cleansed with products we use to remove natural oils from the lashes, eyepads will be applied and a few lash extensions will be applied to the outer lashes on each eye – usually 3 per eye.  If no irritation or sensitivity is experienced over the next 48 hours then the lash appointment can go ahead.
*For more information on recommended Pre Treatment Advice click the link here
*For recommended Post Treatment – Aftercare Advice click the link here
SVS – Soft Volume Semi-permanent lashes are the most popular advanced technique.
Ideal for anyone with sparse natural eyelashes requiring long term wear soft volume lashes but without the false lash effect
The technique involves applying multiple handmade light weight lash fans in varying lengths to each individual natural lash (without putting any strain on the lashes), creating soft volume and definition and a fluffy textured top lash line effect
The treatment can take up to 2 hours compared to Russian Volume lashes which can take up to 3 hours to complete a full set
To maintain full set soft volume looking lashes Infill maintenance will be required every 3 weeks
*A patch test is not recommended however if your eyes are sensitive it is best to consider a patch test.  This way we can test you on all elements used to complete the treatment.  The eyes will be gently cleansed with products we use to remove natural oils from the lashes, eyepads will be applied and a few lash extensions will be applied to the outer lashes on each eye – usually 3 per eye.  If no irritation or sensitivity is experienced over the next 48 hours then the lash appointment can go ahead.
*For more information on recommended Pre Treatment Advice click the link here
*For recommended Post Treatment – Aftercare Advice click the link here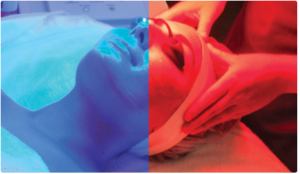 Achieve enhanced skin results with our advanced facial treatments;
 Note: For more problematic skin a course of facial treatments is advised (these are available to purchase from in-salon only) alongside recommended products to use at home to guarantee the best possible results and maintenance!! 
Oxygen Hydra Facial – 55mins – £60 (Smoothes, purifies, hydrates and repairs)
This facial is performed using the very popular and multi-functional hydra facial machine and achieves enhanced deep cleanse results.
The facial treatment involves hydra dermabrasion in conjunction with active alpha-hydroxy acid exfoliating cleansers that effectively resurface skin + vacuum suction to extract impurities, blackheads and whiteheads + oxygen hydration infusion purifies and improves skins texture and tone + relaxing LED Light Therapy helps heal and repair skin conditions such as breakouts, pigmentation and ageing skin concerns.
*In a nutshell, the Oxygen Hydra Facial is the ultimate choice to thoroughly deep cleanse, purify, resurface and rehydrate skin fast!
Dermalogica IonActive Facial Treatment– 60min – £75 (Intensive deep treatment targets challenging skin concerns)
This facial treatment incorporates ionizable serums activated on the skin via electrical modalities (i.e. Iontophoresis, Ultrasound and Radiofrequency + LED Light Therapy). The process involved re-energises skin cells to better absorb serum potency and drive active ingredients into deeper layers of the skin to effectively treat challenging skin conditions such as acne, hyperpigmentation, dehydration, sensitivity and skin ageing.
Depending on the skin concern the appropriate IonActive serum is selected (e.g. dehydrated, drier skin types will benefit immensely from the Hyaluronic Acid IonActive serum.  1% Retinol IonActive treats anti-ageing concerns, Oligopeptide IonActive is a skin brightening peptide that is excellent to manage pigmentation issues whilst the Niacinamide IonActive serum treats acne/problematic breakout skin types).
Accupressure point facial massage is also included in this facial.  *In a nutshell, the IonActive Facial Treatment is a highly active deep treatment that delivers intense results for healthier skin structure and function.
*Further descriptive information about electrical modalities used in these facials and their purpose can be accessed via the link here 
IonActive Oxygen Hydra Facial 70min –  £85 (Purifying Deep Treatment provides long-lasting revitalised skin benefits)
This combination of facial treatments offers the ultimate solution for challenging skin concerns requiring both an active deep cleanse (Oxygen Hydra Facial) and an active deep treatment (IonActive Facial Treatment) to address specific skin concerns.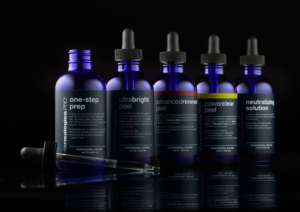 Pro Power Peel
Looking for a professional peel experience?
The all-new Pro Power Peel redefines the peel experience. Dermalogica's strongest and fastest peel yet, the Pro Power Peel collection features a full suite of peel products, including Alpha Hydroxy Acids (AHAs) and Beta Hydroxy Acids (BHAs).  The advanced skin resurfacing peel formula dramatically speeds up skin cell renewal process achieves advanced results in the treatment of challenging skin conditions such as ageing skin concerns, fine lines & wrinkles uneven pigmentation, acne and problematic skin.
Pro Power Peel 30 – £70 (Power Exfoliation for rapid skin cell renewal)
With a unique system of three different acids for a deep exfoliation personalised to you, the 30-minute pro power peel treatment, instantly rejuvenates and revitalises skin revealing brighter, clearer, smoother more radiant looking skin.  It is ideal to target lines and wrinkles, uneven pigmentation or breakouts.
Pro Power Peel 60 – £100 (Power Exfoliation + IonActive Deep Treatment)
For a truly transformative skin result! This effective and customised 60-minute treatment combines the benefits of Pro Power Peel 30 treatment with additional advanced techniques and technologies. Peel results are dramatically enhanced by a supplementary deep treatment process incorporating powerful IonActive Serum™, a customised masque, LED light therapy and relaxing facial massage to ensure your skin is left clear, smooth and glowing. You've never had a peel treatment like this before!
Note –  *A 24hr patch test and skin analysis is required prior a Pro Power Peel treatment.
    *A Pro Power Peel Post Procedure Kit is provided and recommended to be used for 2-3 days to protect and help boost moisture  levels in the skin
   * For more information about Dermalogica's Pro Power Peel click on the link here 
For those days when you feel like you don't wish your treatment to end.
Our luxury signature hand and foot treatments are designed to help you to relax and unwind for that little bit longer and are sure to leave you feeling blissfully pampered like floating on air.
These skin indulgent pamper treatments unique to Beauty Vibes include anti ageing skin brightening exfoliating treatments that revitalise skin whilst nourishing massage oils and vitamin nutrient-rich masks deeply condition and rehydrate.  In addition, thermal paraffin wax treatment allows for deeper relaxation and release of muscle tension soothing tired, achy limbs and promoting overall feelings of general wellbeing.
These luxury treatments make great gifts for that someone special deserving of a nurturing feel-good treat and are the ultimate in hand and foot pampering for those days when you feel the need to take some extra time out for a little bit of something extra special.