With the summer season long over the damage from harsh solar UV rays can start to manifest on the skin come autumn in the form of dull, dry dehydrated skin. UV damage will have also accelerated collagen break down which leads to loss of skins elasticity and evident signs of pigmentation can mean an overall uneven skin tone.
As autumn temperatures continue to drop, central heating and colder temperatures can strip the skins surface drying and aggravating it even more.
*The solution is to find relief in professional skincare to repair UV damage, rehydrate and plump skin.  Consider products that contain a stronger percentage of active ingredients in cleansers and exfoliators and add serums packed with potent peptides and anti oxidant vitamins to your skincare regime to treat and correct signs of ageing, retexturize and rehydrate and ultimately prepare skin for winter.
*For a recommended list of key facial products targeted to boost skin cell renewal and replenish skin click the link here.  *When used daily these products will help to smooth and brighten, lift and tone, hydrate and provide overall sustained nourishment and protection for the skin.
To promote the 'Renew and Reawaken' theme on skincare this Autumn we currently have a Mid Season Special Offer on our Facials and Retail skincare products!!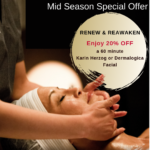 The professional 'Anti-Ageing' Facial treatments at Beauty Vibes, focus on powerful skin resurfacing boosting skin cell renewal whilst the age reversal facial massage technique focuses on re-energising, lifting and toning the skin.  This invigorating 60 minute skin replenishing facial workout reveals smoother and firmer looking skin and overall skin clarity and radiance.
*ENJOY 20% OFF!!! all 60 minute Facials and Facial Retail Products until 16 Nov 2019!!!
NOW is a great time to avail of these savings and invest in your skin or stock up on your favourite products and with Christmas fast approaching to even consider gifting someone special this festive season to the gift of beautiful skin????)
*To book your facial click on the link here
**Offer on retail products is available to purchase from in-store only!!